HTTPS On the Arena Wiki
This isn't really a blog. More of an announcement.
As of the 26th April 2018 FANDOM have rolled out support for https on their wiki servers. It's a beta rollout and is only available for logged in users. It is FANDOM's long term goal to make https the default for everyone but during this beta phase it's only used on an opt in basis.
To enable https on your account go to your "My Preferences" page, select the "Under the Hood" tab, look for "Advanced display options" and tick the "Use HTTPS while logged in (beta)" checkbox.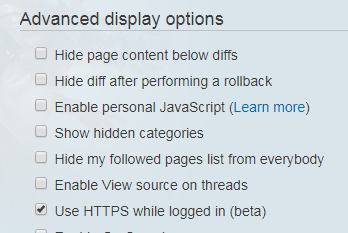 Not only will this increase the level of your privacy, it will help us make sure that the Magic Arena Wiki works with https.
If you find a problem with using https on this wiki, let us know by leaving a comment on this blog. We will have a look, if it's a problem with something on the wiki we will fix it, and if it's a problem at FANDOM's end, it is a beta after all, then we will report it to them.
Note The login and forgot password mechanisms have always been secure and used https, this blog refers to the rest of the wiki.