There are two ways to edit an existing deck on Magic Arena Wiki.
For both methods you first have to go to the deck page that you wish to edit.
Please don't edit the card list of a deck that is not yours, however feel free to proof read and correct any errors in any text that has been added to the deck page.
Deck Builder
Edit
If you only want to edit the card list of a deck you can use the Deck Builder. From the deck page click on the down arrow to the right of the
Edit
button and then choose
Deck Builder
from the menu that appears. The deck will then be opened in the deck builder and you can use it to add or remove cards.
N.B. The deck builder only has partial support for brawl decks. You can't change the commander, just the other 59 cards of the deck. To change the commander you will need to do a manual edit.
Manual Edit
Edit
If you want to do more than edit the card list, such as adding some decktech to the deck, then you will have to manually edit the deck page.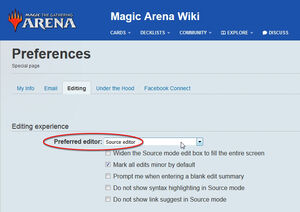 It is important that you always use the
Source Editor
when editing a deck page, you can make sure you are using the Source Editor by setting it as your preferred editor in your
preferences
(if you are logged in).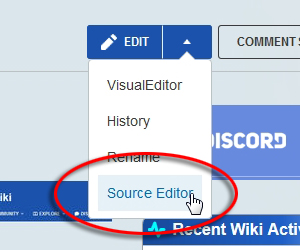 If you have set your preferences as above you just need to click on the
Edit
button, if you have not set your preferences or are not logged in then click on the down arrow next to the edit button and choose
Source Editor
from the menu.
For help in editing wikitext see Help:Contents.
If you are new to editing on a wiki do not worry about making mistakes, any mistake you make can be easily undone or corrected.
Do not hesitate to ask an admin for help, they are glad to offer any help they can. Just leave a message on their message wall and someone will get back to you.
Community content is available under
CC-BY-SA
unless otherwise noted.