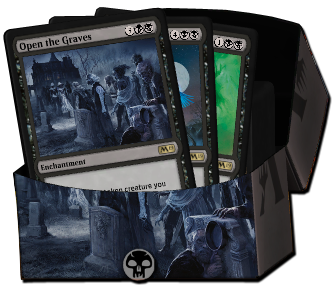 60 Cards
---
Graveyard Bash
(NPE Starting Deck)

25 Lands
25 Swamp


26 Creatures
2 Diregraf Ghoul
3 Doomed Dissenter
3 Walking Corpse
2 Death Baron
3 Deathbloom Thallid
2 Hired Blade
2 Skymarch Bloodletter
2 Gravedigger
2 Infectious Horror
2 Vampire Sovereign
1 Yargle, Glutton of Urborg
1 Gravewaker
1 Meteor Golem


1 Enchantments
1 Open the Graves


7 Instants
2 Skulduggery
3 Murder
2 Strangling Spores


1 Sorceries
1 Rise from the Grave

About the Deck
Graveyard Bash is one of the unlockable decks for playing the New Player Experience.
"As a black mage, every advantage comes at a cost. Sacrifice whatever is necessary to control the forces of death and darkness."
For a full list of decks and how to unlock, please, see here.
Open Beta Changes
This deck has no changes in comparison to the NPE deck in the closed beta.
Import Code
Number of cards by rarity in this import.
Deck Rating