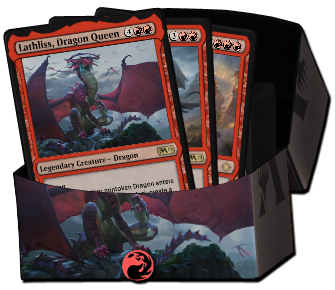 60 Cards
---
Dragon's Fire
(NPE Starting Deck)

25 Lands
25 Mountain


23 Creatures
4 Goblin Instigator
3 Kargan Dragonrider
3 Viashino Pyromancer
2 Pyromantic Pilgrim
3 Havoc Devils
3 Charging Monstrosaur
1 Demanding Dragon
1 Lathliss, Dragon Queen
2 Volcanic Dragon
1 Meteor Golem


10 Instants
4 Shock
3 Sure Strike
3 Bombard


2 Sorceries
2 Lava Axe

About the Deck
Dragon's Fire is one of the unlockable decks for playing the New Player Experience.
"As a red mage, you revel in the chaos of battle. Fire is your weapon and your inspiration."
For a full list of decks and how to unlock, please, see here.
Open Beta Changes
The deck above is the NPE deck players get in the open beta. The deck in closed beta had
Import Code
Number of cards by rarity in this import.
Deck Rating