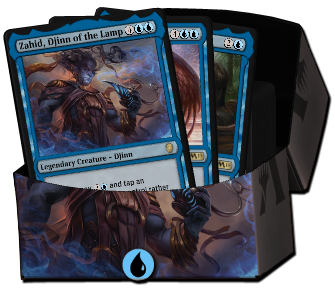 60 Cards
---
Arcane Inventions
(NPE Starting Deck)

25 Lands
25 Island


27 Creatures
3 Gearsmith Prodigy
1 Diamond Mare
4 Field Creeper
2 Aven Wind Mage
3 Aviation Pioneer
1 Sai, Master Thopterist
1 Tempest Djinn
2 Gilded Sentinel
2 Scholar of Stars
3 Air Elemental
2 Gearsmith Guardian
1 Riddlemaster Sphinx
1 Zahid, Djinn of the Lamp
1 Meteor Golem


1 Artifacts
1 Arcane Encyclopedia


3 Enchantments
3 Waterknot


3 Instants
2 Disperse
1 Befuddle


1 Sorceries
1 Divination

About the Deck
Arcane Inventions is one of the unlockable decks for playing the New Player Experience.
"As a blue mage, you control the battlefield through illusions. Always think three steps ahead of your foe."
For a full list of decks and how to unlock, please, see here.
Open Beta Changes
The deck above is the NPE deck players get in the open beta. The deck in closed beta had
Import Code
Number of cards by rarity in this import.
Deck Rating