About the Deck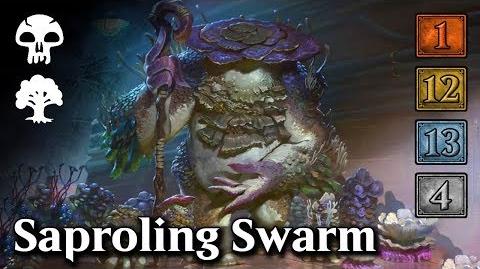 This is an upgrade for the preconstructed (
) Saproling token deck "
Saproling Swarm
" from the
New Player Experience
, using only a handful of
wildcards
. To see this deck in action and detailed deck tech watch this
video
.
60 Cards
---
Upgraded Saproling Swarm
by LegenVD

23 Lands
6 Swamp
4 Woodland Cemetery
8 Forest
4 Overgrown Tomb
1 Arch of Orazca


19 Creatures
4 Llanowar Elves
4 Sporecrown Thallid
3 Slimefoot, the Stowaway
4 Yavimaya Sapherd
4 Tendershoot Dryad


1 Artifacts
1 The Immortal Sun


6 Enchantments
1 Arguel's Blood Fast
1 Fungal Plots
4 Song of Freyalise


7 Instants
1 Fungal Infection
2 Vicious Offering
4 Spore Swarm


4 Sorceries
4 Saproling Migration

Wildcard Count
Required Wildcards (fresh account with all Starting Decks unlocked):
Rarity
Amount
Cards
Common
2
1x Yavimaya Sapherd,
1x Saproling Migration
Uncommon
13
4x Sporecrown Thallid,
2x Slimefoot, the Stowaway,
1x Fungal Plots,
4x Song of Freyalise,
2x Spore Swarm
Rare
12
3x Woodland Cemetery,
4x Overgrown Tomb,
1x Arch of Orazca,
3x Tendershoot Dryad,
1x Arguel's Blood Fast
Mythic
1
1x The Immortal Sun
Total:
28
Note: 7 of the rare wildcards are checklands (Woodland Cemetery) and shocklands (Overgrown Tomb) which have high frequency of use in multiple decks.
2x Llanowar Elves will only be available after unlocking the (

) Primal Fury starter deck.
About the Author

LegenVD is an experienced Magic: The Gathering player who has been publishing Magic videos on YouTube since 2012. LVD also streams Magic: The Gathering Arena on Twitch.tv.
Import Code
Number of cards by rarity in this import.
Deck Rating
Community content is available under
CC-BY-SA
unless otherwise noted.