60 Cards
---
Izzet Spellweaving (Starting Deck)

26 Lands
1 Desert of the Fervent
1 Desert of the Mindful
1 Field of Ruin
4 Highland Lake
11 Island
8 Mountain


9 Creatures
1 Labyrinth Guardian
1 Seeker of Insight
2 Bloodwater Entity
2 Enigma Drake
1 Magmaroth
2 Cryptic Serpent


1 Artifacts
1 Primal Amulet


1 Enchantments
1 Riddleform


19 Instants
2 Magma Spray
2 Opt
1 Abrade
1 Censor
2 Essence Scatter
1 Lightning Strike
1 Negate
1 Pull from Tomorrow
2 Cancel
1 Fiery Cannonade
1 Galestrike
1 Supreme Will
2 Hieroglyphic Illumination
1 Spell Swindle


4 Sorceries
1 Entrancing Melody
1 Puncturing Blow
1 Hour of Devastation
1 Star of Extinction

About the Deck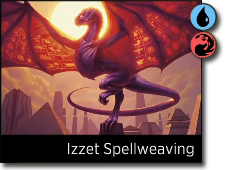 This is a preconstructed
starting deck
which is part of the starting collection added with the closed beta patch on March 22, 2018.
[1]
Starting Decks
---

Azorius Ascension •

The Legion of Dusk •

Boros Assault •
Izzet Spellweaving •
The River Heralds •
The Sun Empire •
The Brazen Coalition •
Dimir Manipulation •
Golgari Exploration •

Selesnya Pride
Import Code
Number of cards by rarity in this import.
References
Community content is available under
CC-BY-SA
unless otherwise noted.