This article is about a card that isn't currently available in-game.
This card was removed from MTG Arena on Sept 27th 2018 as part of the open beta patch.
Name
Acrobatic Maneuver
Mana Cost
Converted Mana Cost
3
Types
Instant
Text
Exile target creature you control, then return that card to the battlefield under its owner's control.


Draw a card.

Flavor
Renegades find ever more creative ways to work around the Consulate's aether regulations.
Expansion
Kaladesh
Rarity
Common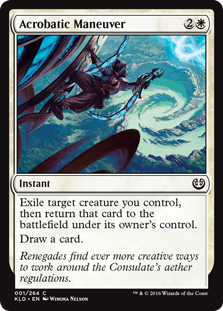 Card rulings (?)

| | |
| --- | --- |
| 2016-09-20 | After the creature returns to the battlefield, it will be a new object with no connection to the creature that was exiled. It won't be in combat or have any additional abilities it may have had before it was exiled. Any +1/+1 counters on it or Auras attached to it are removed, and any Equipment will no longer be attached. |
| 2016-09-20 | If a creature token is exiled this way, it will cease to exist and won't return to the battlefield. |
Community content is available under
CC-BY-SA
unless otherwise noted.